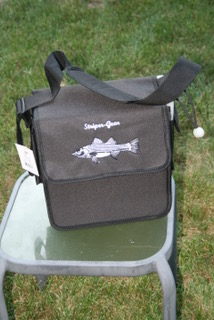 model #: SR-01
retail price: $119.95
Our off shore bag has 2 inserts with 10 cells 2x2x9″ for larger plugs. A unique pull out holder for tuna jigs and larger metals.
Inside front storage has accordion style briefcase for separators which would allow storage for sensitive leaders, large hooks and supplies you would need off shore.
It has a water bottle holder on one side and plies on other.
Grommets on the bottom in event it is caught a wave!
This is also available as a backpack (SR-01-BP).